Maxwell Street Station History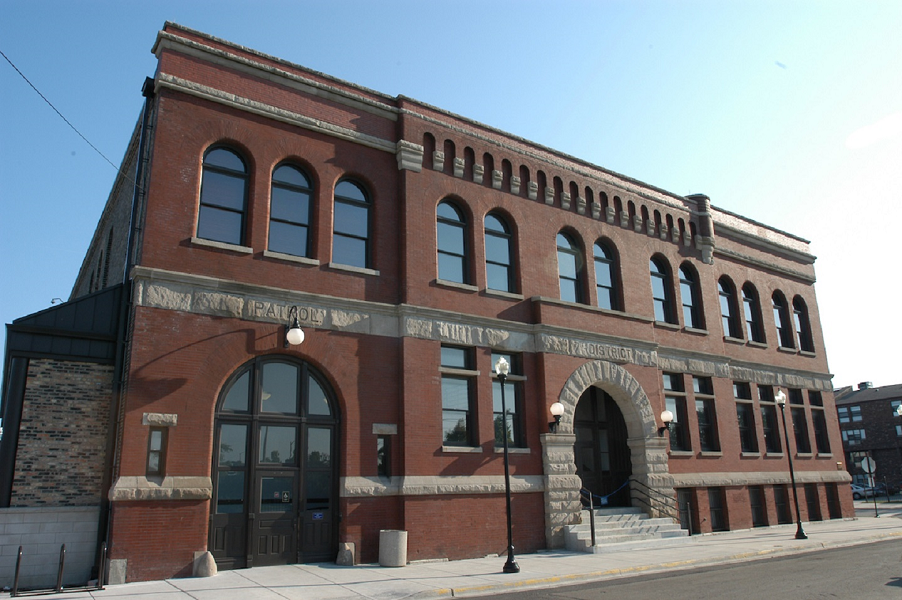 The Maxwell Street station, located at 943 West Maxwell Street, is more than an architectural gem and more than just the signature image of the Hill Street Blues television series. Behind the brick facade of the building — known throughout most of its history as the 7th District station — is a story of Chicago's early immigrants and the evolution of a police department.
The building, designed in 1888 by the firm of Edbrooke and Burnham, is a well-preserved example of an early, Chicago neighborhood police station. It was built of red pressed brick and Joliet limestone, with walls three feet thick at the base — a true fortress. According to a history compiled by the UIC Police Department, the facility is one of the most architecturally significant police stations built before 1945 still standing in Chicago.
The station was built during a period of tremendous growth after the Chicago Fire of 1871, as the city's population exploded from 298,000 to almost 1.1 million. As late as 1850, the entire police force of Chicago consisted of just nine men. But the growing population, along with social and economic changes, created the need for more law enforcement. The force expanded from 455 policemen assigned to 11 precincts in 1872, to more than 1,255 policemen in 20 district police stations by 1888.
The 7th District station opened two years after the Haymarket Square tragedy that took the lives of seven officers. It was one of many clashes between police and factory workers fighting for better pay and working conditions.
The area, termed "the terror district" by a newspaper reporter of the time, was extremely poor, with substandard housing, few parks, and poor sanitation. As Irish and German immigrants moved out to better neighborhoods, Italians and European Jews moved in. The new Jewish immigrants brought synagogues, social and cultural clubs, theaters and schools into their new neighborhood. They also brought an outdoor marketplace, where pushcart merchants sold their goods.
In 1906, the Chicago Tribune called the district "Bloody Maxwell" and "the Wickedest Police District in the World." The police station was considered a fortress in a precinct that had grown to 200,000 residents and boasted more saloons per capita than any place in town. Over the years, the legendary station played host to some of the nation's most notorious criminals, including Sam Giancana and Al Capone.
The fortress survived a consolidation of police districts in 1961, making it the only facility built in the 19th century remaining after the reorganization. It changed from a district station to detective headquarters for the 4th Area. In 1996, the Maxwell Street station was admitted to the National Register of Historic Places, ensuring its survival in the future.