Safe Exchange Zone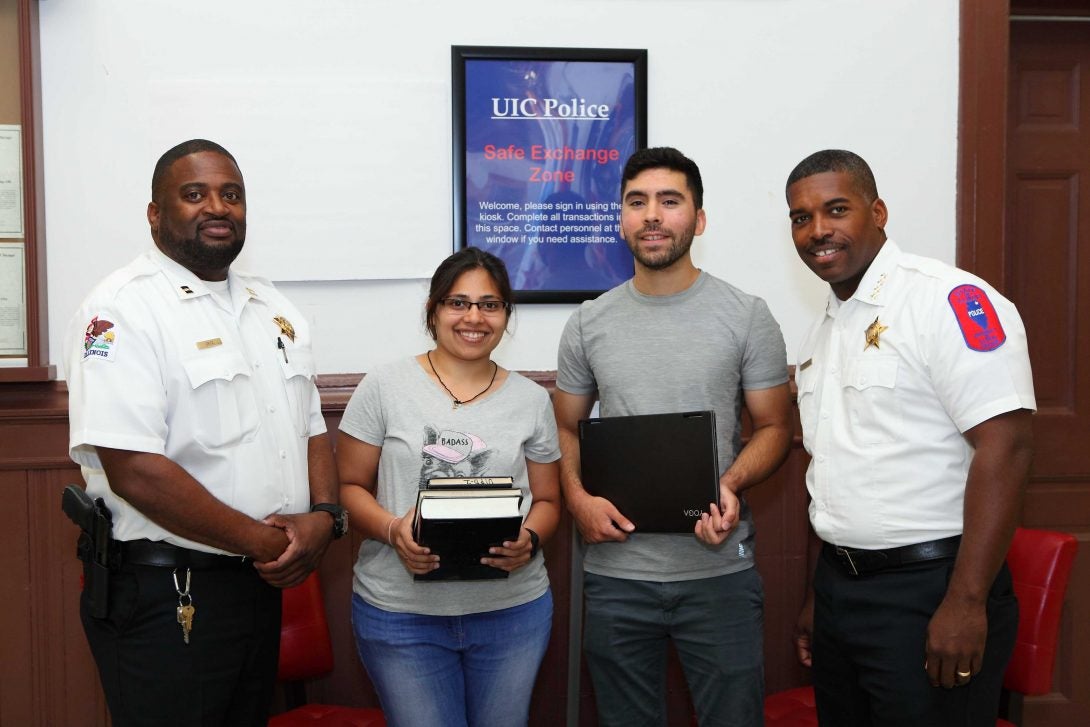 When shopping online, there are some great deals to be found on websites such as Craigslist, Offerup, and Facebook Marketplace. However, there are also some real dangers associated with meeting a complete stranger. If you conduct a quick Google search, you'll find numerous stories of crimes committed against persons while conducting an exchange of items purchased through these websites. It is the mission of the University of Illinois Chicago Police Department to ensure the safety and security of the campus and its neighborhoods, including its students, faculty, staff, and community.
To support this mission, UIC Police has created a "Safe Exchange Zone." The purpose of the UICPD Safe Exchange Zone is to provide the university community with an area that they can conduct the exchange of their online transactions or even make child custody exchanges in a safe, neutral environment that is comfortable, well-lit and under video surveillance 24 hours a day.  Possession of weapons on university property is prohibited, so exchanges involving weapons are not permitted in the space.
Although transactions can occur in the lobby of the police department at 943 W. Maxwell St., neither law enforcement nor university officials will be involved in any part of the transaction.
Designated parking spaces are located adjacent to the police station.
UICPD does prohibit some transactions at the Safe Exchange Zone:
Illegal transactions, including, but not limited to contraband, narcotics, illegal substances, stolen property, or other illegal items and/or exchanges.
Transactions involving firearms, firearms parts, ammunition or explosives. Possession of weapons on university property is prohibited.
Large, bulky items that would disrupt the operations of the police facility.
The delivery of any packages or goods to these facilities on behalf of a purchaser.
For your safety:
Only do transactions with local buyers/sellers.
Do not go to a transaction alone.
Make sure a friend or family member is aware of the transaction details.
Insist on meeting in a public area like our safe transaction zone.
Do not go into someone else's house, and do not allow them into yours.
Complete the transaction during daylight hours.
Be extra cautious when buying or selling valuable items such as vehicles and jewelry.
Only use cash or money orders to complete your transactions.
Trust your instincts! If it sounds like a scam it probably is.
If somebody is not willing to come to the police department to do a transaction, it is probably not a legitimate transaction.