Community Engagement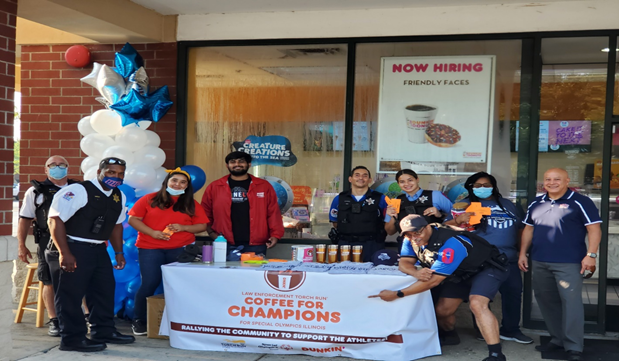 The 18th annual Dunkin' Donuts Cop on a Rooftop event was able to bring the community and UICPD together to raise awareness and money for the athletes of Special Olympics Illinois! We were able to sell travel mugs, t-shirts, hats, pins, and raffle tickets. UICPD was able to raise over $2,500.00 for the 2021 campaign!

Over 400 student organizations, university departments, and neighboring businesses were on hand to greet and welcome students back to campus at this year's virtual and in-person Involvement Fair. Members of the UICPD PACE Unit were able to engage with students by setting up an informational table to promote UICPD involvement opportunities, as well as various safety resources. This four-day event was attended by thousands of UIC students, faculty, and staff.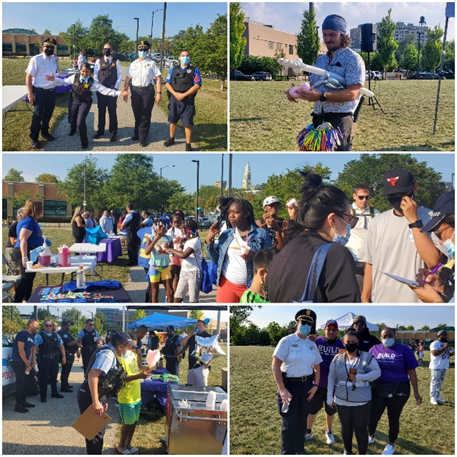 National Night Out enhances the relationship between neighbors and law enforcement while bringing back a true sense of community. Furthermore, it provides a great opportunity to bring police and neighbors together under positive circumstances. UICPD was able to collaborate with the Chicago Police 12th District CAPS Unit to provide resources and giveaways to community members of all ages.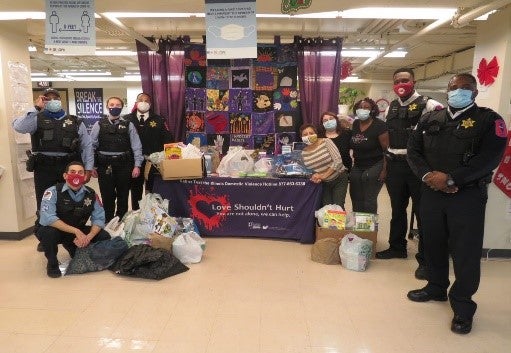 https://today.uic.edu/uic-police-demonstrate-support-for-the-community
During Domestic Violence Awareness month, UICPD collaborated with a local advocacy organization, The Network, who provides services to domestic violence survivors. With the increased request for assistance during the coronavirus pandemic, UICPD was informed that domestic violence shelters in Illinois are in need of specific items. Department members donated educational children's activities, feminine hygiene products, coloring books, markers, and crayons, and art supplies. The Network is affiliated with thirty (30) other domestic violence organizations throughout the state; this ensured that all donations collected were directed to where they can have the most impact.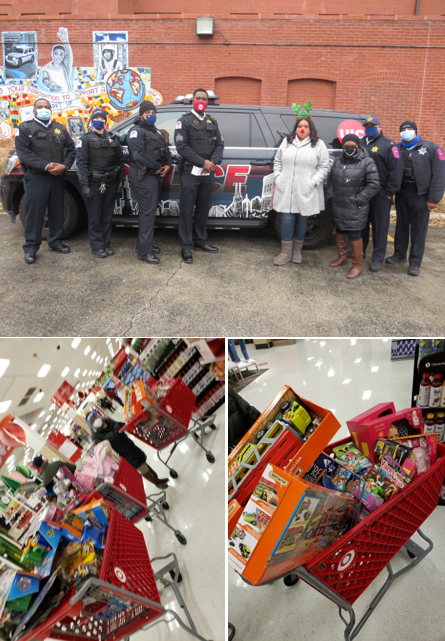 https://today.uic.edu/uic-police-demonstrate-support-for-the-community
UICPD collaborated with its local community partner, Connecting4Communities, to support our neighborhood school, John M. Smyth Elementary. In previous years, during the holiday season, department members donated toys to the school as part of its Secret Santa program. However, due to the coronavirus pandemic this year, UICPD modified the initiative and department personnel along with community supporters provided the entire fourth grade cohort of 51 students each with $25 gift cards. With the financial surplus from the donations after purchasing the gift cards, the department worked with the school to identify two families most in need and provided them with $100 gift cards. The department's collaboration with Connecting4Communities allowed us to positively impact more than 300 school families during a very different type of holiday season.

https://today.uic.edu/join-uic-police-in-supporting-special-olympics
http://news.uic.edu/cops-on-a-rooftop
Each year UICPD donates time and funding in efforts to raise additional funding for the Special Olympics. The department collaborates with local Dunkin' Donuts locations to help raise the funds for the Law Enforcement Torch run, which benefits Special Olympics athletes in Illinois. Everyone who donates gets a coupon for free donuts; donations over $10 receive a mug, coupon for coffee, and other incentives (t-shirts, hats, and raffle tickets to win a Harley Davidson motorcycle).

Senior Toiletry Initiative
https://today.uic.edu/uic-police-launch-drive-to-benefit-seniors-in-community
In efforts to provide additional support and resources to the neighborhood Senior Housing Complex George W. Collins, UICPD conducted a needs assessment with management to understand what would best benefit the senior residents. UICPD provided on-campus donation collection boxes to gather new and unopened essential toiletries. The items donated by the UIC community included toothbrushes, toothpaste, mouthwash, deodorant, paper towels, dish towels, toilet paper, cotton swabs, bandages, laundry detergent, fabric softener, bleach, dish detergent, soap and body wash, air fresheners and cleaning supplies.

https://today.uic.edu/uic-police-launch-shower-shoe-drive-to-benefit-pacific-garden-mission
The Pacific Garden Mission has been a place for refuge and transformation for the homeless in the Chicago area. In 2018, UICPD raised donations of 600+ new shower shoes for the men and woman at Pacific Garden Mission. UIC Police Department continues to work with Pacific Gardens to assist their shortage in new shower shoes. UIC Police Department collected donations of new shower shoes at different drop off locations around the UIC Campus.

UICPD frequently collaborates with the neighborhood housing complex residents, Barbara Jean Wright Court, and UIC Athletics to engage UIC Athletic Department and UICPD Officers on an interpersonal level. In 2017, UICPD hosted two separate Softball and Volleyball games with the student athletics, Barbara Jean Wright Court residents, and UICPD Officers.

https://www.stbaldricks.org/events/chui2019
The St. Baldrick's Foundation is a charity that funds more in childhood cancer research grants than any organization except the U.S. government. Over the recent years UICPD has partnered with UI Health Children's Hospital for an amazing day of raising awareness, head shaving, and donating for the St. Baldrick's Foundation.