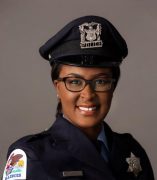 Tawanna Clark
Investigator
Certified Self-Defense Instructor - AWSDA
UIC Police
About
Tawanna Clark has been a Police Officer at the University of Illinois at Chicago Police Department (UICPD) since 2010. She is an alumnus of UIC and studied Criminology, Law and Justice. Tawanna became a certified self-defense instructor through the American Women's Self Defense Association (AWSDA) in 2017.
Tawanna became interested in women's self-defense program because she will like to increase each participant's confidence in defending herself against an attacker. Tawanna's goal is to encourage women to assert themselves in potentially dangerous and uncomfortable situations.
This program is taught by women, tailored for women and provides resources for women, which fosters a positive learning environment. Tawanna is excited to be a part of a program with enthusiastic instructors who are interested in the well-being other women.