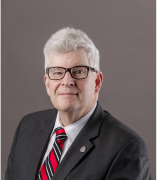 Lee Matthews
Director of Hospital and Medical Clinic Security
UIC Police
Contact
Office Phone:
Email:
About
Director Matthews has responsible for security operations for the hospital and its medical clinics.  He leads a force of over 60 security line staff and supervisors.  He chairs the Security Subcommittee and is an active member of a number of security/safety committees including the Environment of Care, Emergency Preparedness and Workplace Violence Prevention.
He has been in private security in the Chicago Metro Area for over three decades, with an emphasis in proprietary healthcare settings. He has done extensive work in staff training, technology implementation, technical writing and regulatory compliance. He has also provided confidential research and investigative services to law firms, insurance companies, corporations and governmental agencies. He is a nationally known speaker.  His views on technology and security practices have also been published in national trade journals numerous times.
He is holds a master's degree in Criminal Justice and has achieved professional security certifications from both ASIS and IAHSS.  He is a graduate of the US Army Military Police School and has been licensed in Illinois as a Private Detective.