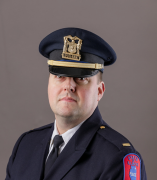 Christopher Ziegler
Lieutenant of Patrol
UIC Police
About
Lieutenant Chris Ziegler has been with UICPD since May of 1997. During his time at UICPD, and with the help of several very intelligent, eager, and dedicated Sergeants and Officers, he started a few of our in-house training programs such as the Defensive Tactics Program, Use of Force Program, Tactical Program, and Scenario Program.
In 2016, he passed the Training torch to another Lieutenant and Sergeant and he is now the Lieutenant of Patrol Operations. Currently, he is responsible for the direct supervision of nine (9) Police Sergeants across three (3) shifts. These sergeants are responsible for the supervision of the thirty-six (36) Patrol officers that are assigned across those three (3) shifts to patrol our University Community. Together they help to establish and enforce the goals and expectations for all Patrol personnel so that they can facilitate a safe learning and working environment for our University students, faculty, and staff.
To help gain participation from the University Community in their own safety and security, he has also established four (4) mandatory Community Engagement Initiatives for Patrol as a means to quantify what many of the officers have already been doing since before it was mandatory. These Community Engagement Initiatives are a means to alert specific locations to patterns of crime or suspicious activity within/around their building and to solicit occupant assistance with reporting suspected criminal activity in a timely manner to UICPD.